Nonprofit Spotlight: EATS Park City – Striving for a Healthier Generation … One Park City Kid at a Time!
Posted by Christine Grenney on Monday, April 22, 2019 at 10:53 AM
By Christine Grenney / April 22, 2019
Comment
Change is afoot in the Park City School District cafeterias, and the six-year-old EATS (Eat Awesome Things at School) nonprofit is proud to be the catalyst for that change.
Homemade menu items like tomato soup, cheese sticks, chili and freshly-prepared fajitas are now available alongside old-school items, such as chicken tenders and tater tots. But decidedly-healthier options, such as roasted cauliflower with cilantro and lime, and homemade hummus with veggie chips and pitas, far outnumber their less-healthy counterparts, thanks to an effort by EATS to up-the-school-lunch-ante for local kids.
In 2013, community concerns over healthy lunch options led to the creation of EATS, whose mission is to help local kids develop lifelong healthy eating habits and have access to fresh, nutritious and appealing food.
This mission let to the eventual Hungry for Healthy Campaign, launched in 2016. That same year, the 15 TO CLEAN initiative was kicked off in the school district, which featured a three-year plan to remove 15 potentially harmful ingredients from the food program, while introducing locally-sourced foods made from scratch, when possible. The 15 TO CLEAN program's mission came to fruition this school year, as kids around the district started to see drastic – and delicious – changes in their cafeterias.
According to EATS, healthy food can help bridge the achievement gap, reduce risky behavior and prevent childhood obesity. What began as visits to the schools during lunchtime to introduce kids to new types of fruits and vegetables has morphed into a full-circle program providing nutrition education that the nonprofit sees kids bringing into adulthood.
Today, more than 300 students in grades K-5 are enrolled in their Curious Cooks program, with approximately 50-percent of participants receiving scholarships, demonstrating the dedication EATS has to reaching underserved members of the Park City community. Curious Cooks is a series of interactive cooking classes helping kids to get hands-on with the preparation process. Students participating in these classes will leave elementary school with knowledge of good nutrition and basic food preparation.
EATS has also expanded their focus beyond the elementary schools, where volunteers could be found throughout the week, introducing students to new and unusual foods during lunchtime. Now, kids in grades 6-9 can participate in classes offered through a partnership with Youth Sports Alliance (YSA), with kid-friendly topics like "Fueling Favs of Pro Athletes" and "A Fresh Take of Fast Foods." These classes are sold out for spring, so keep an eye on the YSA website for future opportunities. The YSA classes were so popular, they led to the creation of afterschool cooking classes at Ecker Hill.
For high schoolers, EATS encourages students to volunteer by either assisting with the classes for younger kids, or working as counselors during the summer camps. Adult volunteers are also critical to their mission, and are needed for help with events and in the school gardens.
To extend their mission outside of the schools and introduce the greater Park City community to healthier eating, EATS offers a variety of recipes on their site, with categories that include "Breakfast," "Entrees," "Salads," "Side Dishes, "Snacks and Apps" and "Soups." They will also be holding family cooking classes over the summer.
In striving to reach all members of the Park City community, EATS works with the Christian Center to provide backpacks to students providing nonperishable food for the weekend (when they're not able to access breakfast and lunch at school), and holds demos showing how to prepare meals using common food pantry items.
As a nonprofit, however, EATS could not operate without financial support from donations, sponsorships and grants, so they're holding their much-anticipated "Fork in the Road" fundraiser on Saturday, April 27, at Park City Mountain's Legacy Lodge. The annual 21 & over fundraiser features a variety of fun foods, including a raw bar, charcuterie, roasted veggies and unique spirits. Tickets are available by clicking here.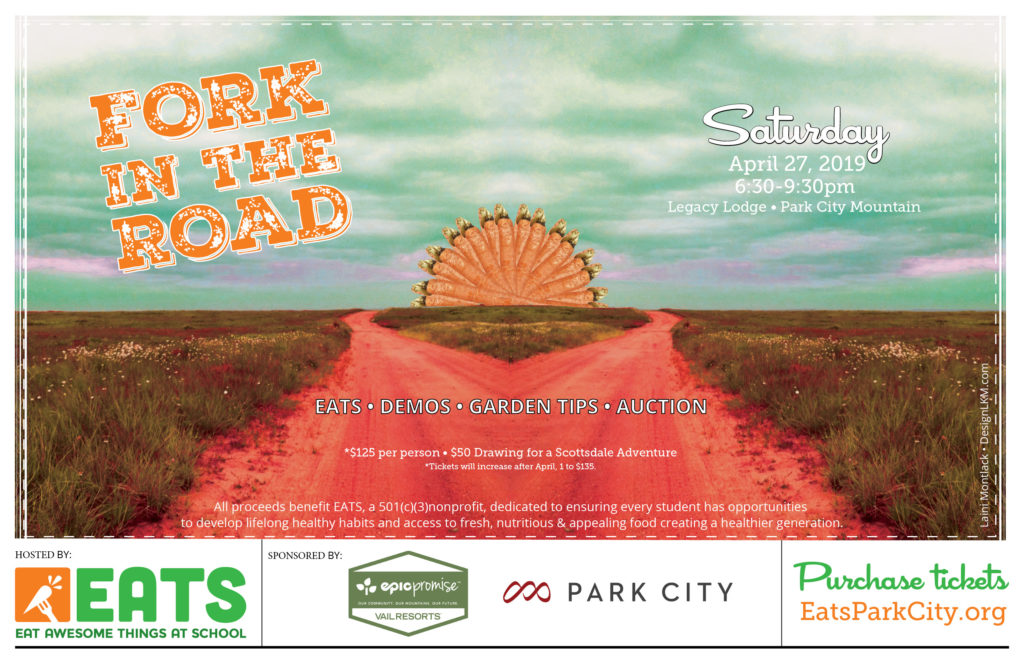 "The money from our fundraiser will fill in the gaps left open from our restricted-grant funds," Executive Director, Meaghan Miller-Gitlin, recently told The Park Record. "It will help us provide good, nourishing and appealing food to Park City students and their families."
Can't make the fundraiser, but still want to support EATS' efforts? Click here to learn more about ways to donate.
EATS Park City is one of the many community-supported programs that demonstrate how Park City rallies around all of its residents, and why so many families Choose Park City over similar areas in which to raise their children. If you're considering a move to Park City, be sure to connect with Christine today at 435-640-4238!