Park City Housing Market Update – February 2021
Posted by Brendan Trieb on Wednesday, February 3, 2021 at 6:14 PM
By Brendan Trieb / February 3, 2021
Comment
Snow, sweet, glorious snow. After a very dry start to this winter, it has been wonderful to see fresh flakes falling on Main Street (and of course at the ski resorts!) on a more regular basis over the last few weeks. Finally, snow banks are steadily lining the streets of Old Town, and the turns underfoot on the mountain are much softer now than they were just a few weeks ago. It seems like 2021 just started, and yet it's already February. However, in a way, the year did just begin for housing market stats, as with each monthly update we are sourcing our information from the previous month. So really, this is our first look into what has actually transpired so far in the 2021 marketplace. Just like the snowfall picking up in the new year, it feels like home sales have been following suit. Without further ado, let's dive into this month's Park City housing market update.
Park City Single Family Homes
The transition from December to January in the Park City housing market – or most any market for that matter – is always an interesting one. Some home buyers and sellers are trying to push to close transactions before the year ends, whether for convenience or tax purposes, while others purposely wait until January for the exact same reason. I find some market stats to be a little bit skewed in this transition from old year to new, but still, there are some interesting numbers to take note of.
New listings are still down year over year, and also since the previous month, with a 14% decrease since January 2020, and a nearly 39% decrease from December 2020. With a very healthy buyer demand still in place, the continued decrease in new inventory will only serve to raise sale prices – which is great news for sellers – while making for less homes to go around for buyers, and the continuation of a very competitive marketplace. The number of new contracts written is about even from December 2020 to January 2021, however they have increased by nearly 65% compared to January 2020. Coupled with the decrease in listings mentioned above, this is further proof of a continued lack of inventory available for sale, and a market favoring experienced real estate traders, and veteran real estate agents. You better bring your A game.
Park City Home Inventory
A closer look at the active inventory numbers (homes available for sale at the end of a given month) confirms exactly this. Below is a graphic showing the active inventory for single family homes in Park City proper and Snyderville Basin on a monthly basis beginning in January of 2006.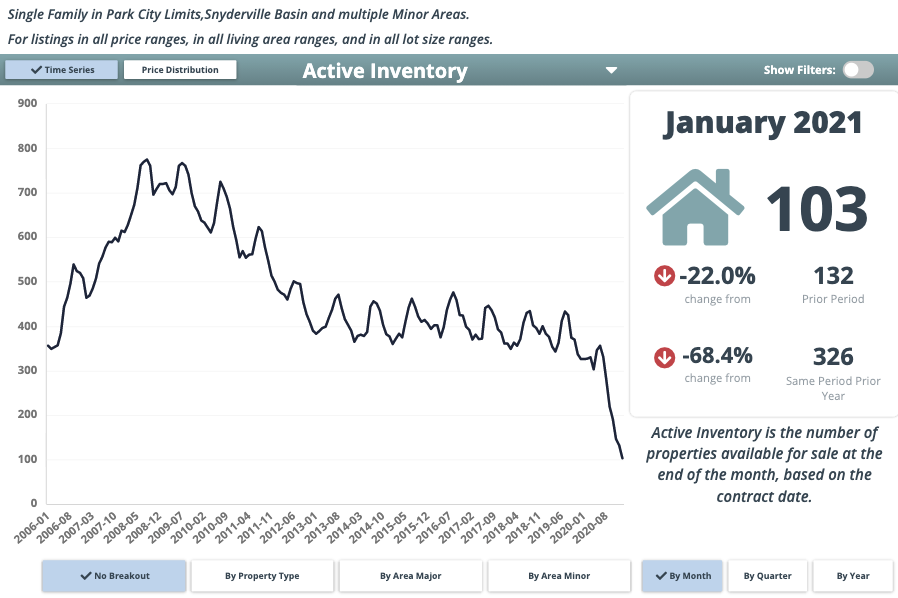 Of course leading up to, and throughout the housing market crash/recession, we saw active inventory balloon as many people were selling out of necessity, but very few were looking to buy. Over a few years, the market started to correct itself, and from about January of 2013 through March of 2020, inventory was on a pretty steady, seasonally-influenced track. In June of 2020, we saw a single family inventory high of 356 properties, and then, well, the wheels came off the cart. Inventory since June of last year has plummeted, dropping consistently every month since then. Call it the Covid Effect, the big city exodus, or the Park City migration, it doesn't matter what the name is. The fact is, that based on current levels of demand for Park City homes, there simply are not enough properties to go around. As a result, as with any marketplace that has higher demand than supply, prices go up.
Perhaps one piece of good news in all of this for Park City home buyers is that prices actually dropped this past month, both on a month to month and year over year basis. Interestingly enough, the median sales price is down by 8.5% from January 2020, and down by a surprising 31.7% from December 2020. This is particularly interesting for the fact that prices have been increasing every month since June 2020. December's numbers may have been somewhat inflated due to some larger sales closing before the New Year, and January's median sales price may be artificially deflated due to less inventory, and as a result some smaller single family homes selling at a lower price point. This is purely educated speculation on my part, but still, buyers should feel good that there has been some easing at least in terms of price, even if it's only at higher price points and lasts for 30 days. February's numbers will be an interesting indicator, and I also want to dive into other surrounding Park City housing markets like the Heber and Kamas Valleys next month, to see how high prices and low inventory have affected the generally more accessible price points.
Now that I have rambled on a bit longer than originally intended on the overall single family market year to date, we will take a closer look at the month of January, and a break down of the different price segments in the market below. This is where things get interesting and are more telling of the market and its various segments.
Park City Single Family Homes Below $1,000,000
Median sold price increased 8.7% from December 2020 and just barely decreased by 0.8% from January 2020 to a current price of $891,500
Median number of days on the market for January were 3 (Three days?! That's insane!!), down 60% from August 2020 at 8 DOM, and way down – 96.2% in fact – from 79 days on market in January 2020
Active inventory decreased 66.7% from December 2020 (6 homes active in December), and is down 92% from January 2020, finishing the month of January 2021 with only 2 single family Park City homes on the market
Park City Single Family Homes Between $1,000,000 and $3,000,000
Median sales price decreased from December 2020 down 26.2%, and is down 13.3% from January 2020 to a current price of $1,585,826. This will be an interesting one to keep an eye on for next month's update
Median number of days on the market for January 2021 are 18, unchanged from December 2020, and down by 75% from 70 days on market in January 2020
Inventory is down 38.9% from 36 active homes in December 2020, and is down a massive 84.4% from January 2020 a year ago, finishing January 2021 with 22 homes on the market
Park City Single Family Homes Above $3,000,000
Median sold price increased 3.6% from December 2020, but is down 13.5% from January 2020 to a current median sold price of $5,100,000
Median number of days on market for January 2021 are 29 up 5.6% from 27 days on market in December 2020, and down substantially by 90.6% from 303 days in January 2020
Active inventory continues to drop even at the higher prices, with January 2021 registering 79 actives, down 12.2% from December 2020, and decreased by 50.9% from January 2020 a year ago
Thanks for reading this months market update, and as always, reach out to us if you have questions on how these numbers will affect you and your situation. Whether you are a possible Park Meadows home buyer, potential Deer Valley home seller, or an interested property investor, we can put the stats and our Park City housing market knowledge to work for you no matter what your needs and interests are. Everyone's situations are different, so knowing how to apply the data is integral to making wise real estate decisions.
-Brendan Trieb, Choose Park City